Reclaim the Airwaves Tour - Chattanooga, TN - Register for this event to expand community radio!
Submitted by slthaw
(22)
November 20, 2012 - 3:45pm
November 26, 2012 -

6:00pm

-

7:30pm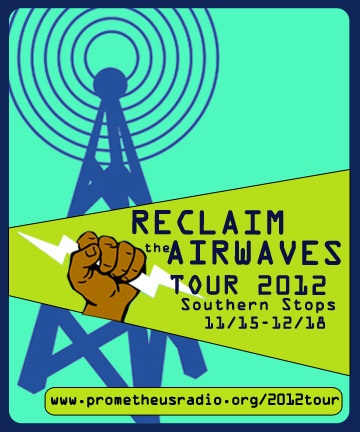 Are you tired of hearing the same corporate propaganda on the radio, TV, newspapers, and internet? Join the Reclaim the Airwaves Tour to learn about a historic chance coming up to take control of the airwaves ourselves - to amplify our voices and build our movements!
The Prometheus Radio Project led a successful decade-long struggle against corporate media giants and their allies in Congress to pass the Local Community Radio Act, which was signed into law in January 2011. As a result of this victory, next year nonprofits, unions, and community groups will have a historic opportunity to apply for thousands of new noncommercial FM radio licenses all across the country. This is an opportunity to build long-term movement infrastructure nationwide. It's the biggest chance in over a generation for marginalized groups to gain access and ownership of the broadcast airwaves.
Prometheus Radio Project will provide:
- Overview of the opportunity to apply for noncommercial radio licenses and what it could mean for you and your community
- A framework of community radio as a tool for social justice movement-building and cultural expression
- Tools and resources to help you get on the air
- Steps & requirements to apply for a radio license and build a station, including timeline, costs, and eligibility requirements
- Documentation of local struggles along the route and the need for independent media
- A history of corporate media consolidation and the successful struggle to expand community radio in the U.S.
Prometheus has a decade-long track record of winning on policy and supporting social justice groups to get on the air. Prometheus helped the Coalition of Immokalee Workers (http://ciw-online.org/) in Florida to build their own community radio station in 2003 as a tool for organizing and artistic expression. Radio has helped the CIW to grow their membership into the hundreds and win landmark labor victories against the biggest food companies on the planet, including McDonald's, Burger King, Taco Bell, and most recently Chipotle.
Prometheus is now offering free services to support social justice groups, unions, progressive nonprofits, and allies to apply for new Low Power FM (LPFM) radio licenses nationwide when they become available. The FCC has indicated the deadline to apply will be in Summer 2013. Come to this event to learn more and meet other groups interested in starting a station near you.
Please submit your official RSVP here if you would like to attend this event.
Location:
1211 Boynton Drive Chattanooga, TN 37402